Sale!
Description
Set Niaga Mesin Jahit Industri Jack A2 Autocut
Set Niaga Mesin Jahit Industri Jack A2 Autocut terdiri daripada
1- Mesin jahit lurus industri Jack A2 Autocut and Auto reverse Sewing Machine
2- Mesin Jahit Tepi Industri Jack JK803D Overlock 3-thread Machine
3- Meja Industri untuk mesin Jahit, Suis dan Foot Controller
4- Set Tapak Jahitan 5 pcs
5- Set benang 30 pcs
6- Set Bobbincase dan bobbin
7- Set Jarum Mesin berkualiti tinggi
8- Tool box drawer dan tool Set
9- Energy saving Direct Drive Motor Speed Control
Set Niaga Mesin Jahit Industri Jack A2 Autocut:-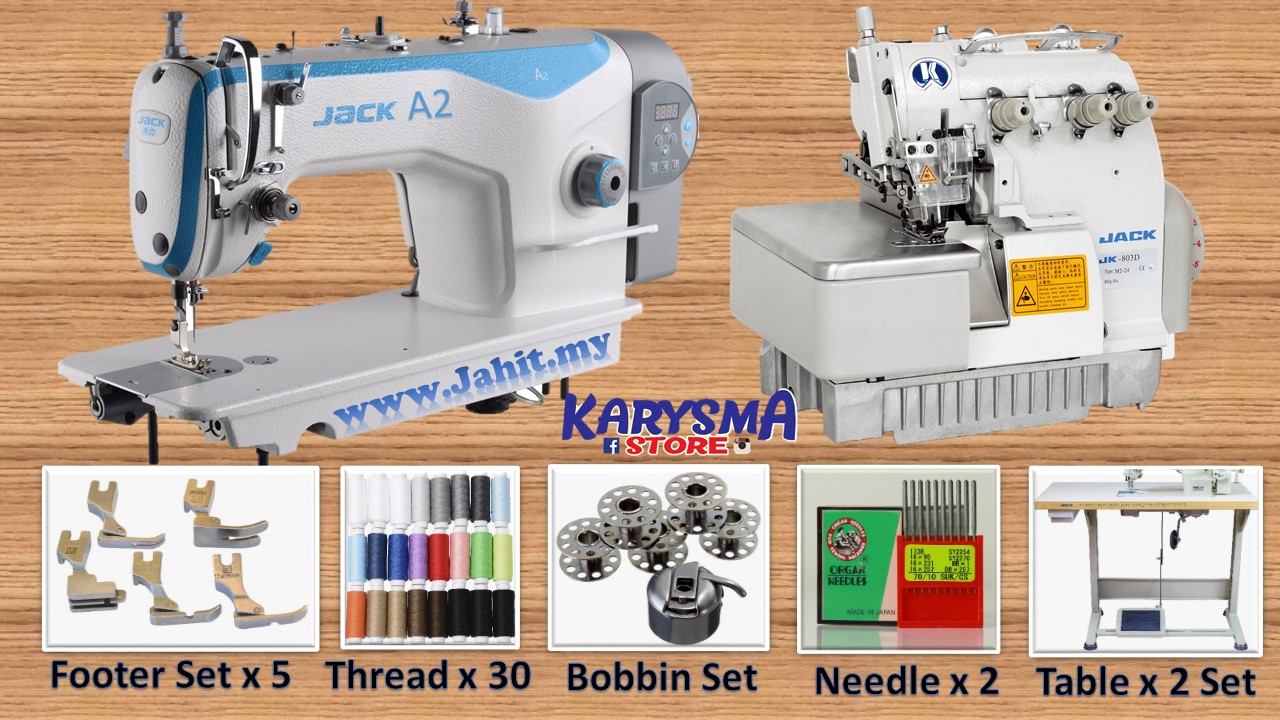 Description
JACK INDUSTRIAL SEWING MACHINE (JACK A2)
JACK Industrial sewing machine is famous because its heavy duty and for its quality of sewing even when sewing thick fabrics either curtains or jeans. While domestic sewing machine  is slower , Industrial sewing is much more faster and concentrated to only straight stitch which is most commonly used to produce shirts and garments. Therefore, maintaining the machine is much more easier as it only requires to replace the oil once every 1 or 2 years.
For tailors with bulk orders, JACK industrial sewing machine is the best for you.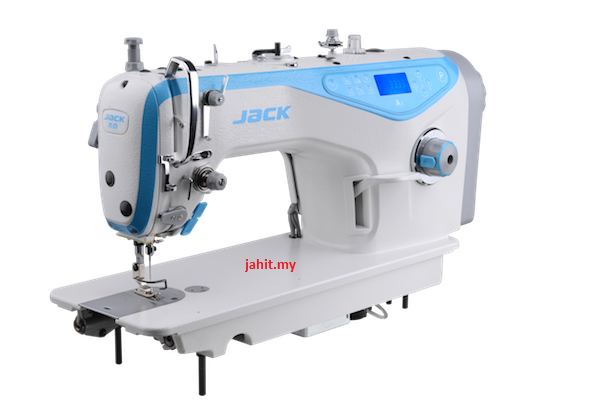 PROS :
Jack industrial sewing machine is Able to sew thick fabrics such as jeans, lycra, curtain. Much as 2 layers of jeans to 16 layers. Can be sewing smoothly with beautiful stitches
Touch-tone factory reset, For a factory reset, long press about 3 seconds, And about 1 second for up and down needle position. Very easy to operate, no need to remember parameters.
One shaft design peaceful and comfortable, The shaft design reduce the machine torque and makes feeding more smoothly. Thus, the stitch are rarely to get stuck among the feed dogs.
Cooling fan. Scientific design, vortex suction of cooling fan on the shaft reduce the temperature of motor and control box, it will greatly improve the lifespan of electronic components and avoids winding.
Humanized design. Half stitch, LED lamp and reverse stitch these three functions in one and the unique LED lamp design give you a better sewing experience.
Jack industrial Sewing Machine spesification :
Needle used is DBx1 9 to 18
2 thread slots
stitch length from 1mm to 5mm
foot height from 5mm to 13mm
5000 s.p.m (speed per minute)
Weight 40KG to 45KG
Comes with the table
Kedai Set Niaga Mesin Jahit Industri Jack A2
Karysma Store merupakan kedai yang menjual pelbagai jenama dan model
Mesin jahit portable dan industri , antaranya ialah mesin jahit jenama Brother, Singer, Juki, Jack
Ini merupakan jenama yang paling popular dan laris di malaysia
Anda boleh datang ke kedai jika ingin mencuba setiap model,
dan pilih lah dengan berhemah, model mana yang paling serasi dengan anda
Alamat Karysma Store
Cawangan shah alam
C-9-G, Jalan Serai Wangi L16/L,
Alam Avenue 2 ,
40200 Shah Alam Selangor.
Landmark puspakom, mee tarik, dominos, ar-rahnu, calacara, Mohd Chan.
Buka setiap hari 9pagi hingga 9malam, tiada cuti dan tiada rehat.
0123416010 (Ahmad)
0172086936 (Yusuf)
Karysma Store Bangi
No.30a Jalan 4/11b Seksyen 4 tambahan,
43650 Bandar Baru Bangi, Selangor.
03-89262568 Hj Zahari
0122383412 Pn Halina
0178800583
Kedai buka setiap hari kecuali Jumaat, Jam 9pagi hingga 7malam
anda boleh melihat harga- harga mesin jahit di laman web Karysma iaitu
http://www.jahit.my
Selain itu, untuk mengetahui jenis-jenis mesin jahit portable,
sila membaca post saya sebelum ini iaitu
http://jahit.my/blog/mesin-jahit-portable/
http://jahit.my/blog/mesin-jahit-industri/
Jemput datang ke kedai untuk mencuba Set Niaga Mesin Jahit Industri Jack A2 Autocut