Sale!
JACK INDUSTRIAL SEWING MACHINE A4 COMPUTERIZED
RM2,799.00
www.jahit.my
mesin industri jahit lurus JACK A4
Description
JACK INDUSTRIAL SEWING MACHINE (JACK A4)
JACK Industrial sewing machine is famous because its heavy duty and for its quality of sewing even when sewing thick fabrics either curtains or jeans. While domestic sewing machine  is slower , Industrial sewing is much more faster and concentrated to only straight stitch which is most commonly used to produce shirts and garments. Therefore, maintaining the machine is much more easier as it only requires to replace the oil once every 1 or 2 years.
For tailors with bulk orders, JACK industrial sewing machine is the best for you.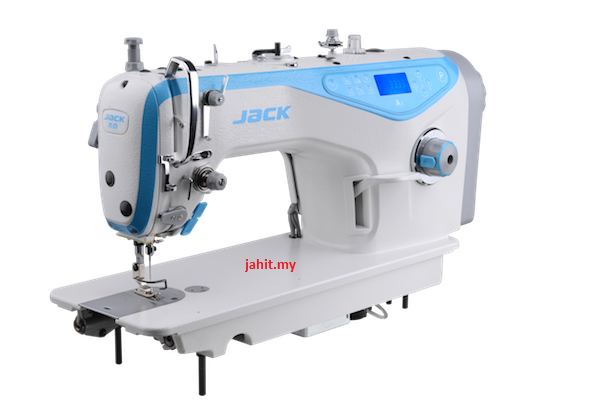 PROS :
Jack industrial sewing machine is Able to sew thick fabrics such as jeans, lycra, curtain. Much as 2 layers of jeans to 16 layers. Can be sewing smoothly with beautiful stitches
Touch-tone factory reset, For a factory reset, long press about 3 seconds, And about 1 second for up and down needle position. Very easy to operate, no need to remember parameters.
One shaft design peaceful and comfortable, The shaft design reduce the machine torque and makes feeding more smoothly. Thus, the stitch are rarely to get stuck among the feed dogs.
Cooling fan. Scientific design, vortex suction of cooling fan on the shaft reduce the temperature of motor and control box, it will greatly improve the lifespan of electronic components and avoids winding.
Humanized design. Half stitch, LED lamp and reverse stitch these three functions in one and the unique LED lamp design give you a better sewing experience.
Jack industrial Sewing Machine spesification :
Needle used is DBx1 9 to 18
2 thread slots
stitch length from 1mm to 5mm
foot height from 5mm to 13mm
5000 s.p.m (speed per minute)
Weight 40KG to 45KG
Comes with the table
About Karysma Store Industrial Sewing Machine
Karysma Store is A well Known Sewing Machine Shop In Malaysia
Founded in 2001, Karysma Store is the main Supplier For Government and private institutions and local universities
Karysma Shopping Outlet are currently available in 4 location in west Malaysia, And free Courier service available to entire States of Malaysia,
Shah alam HeadQuarters
C-9-G, Jalan Serai Wangi L16/L,
Alam Avenue 2 ,
40200 Shah Alam Selangor.
Landmark puspakom, mee tarik, dominos, ar-rahnu, calacara, Mohd Chan.
Buka setiap hari 9pagi hingga 9malam, tiada cuti dan tiada rehat.
0123416010 (Ahmad)
0172086936 (Yusuf)
Karysma Store Bangi Branch
No.30a Jalan 4/11b Seksyen 4 tambahan,
43650 Bandar Baru Bangi, Selangor.
03-89262568 Hj Zahari
0122383412 Pn Halina
0178800583
Kedai buka setiap hari kecuali Jumaat, Jam 9pagi hingga 7malam
Karysma Bdr Bukit Mahkota Branch
No10, Jalan BM 2/1
Bandar bukit Mahkota
Kajang,
Waze: Karysma Store Bukit Mahkota
0172086936
KARYSMA MeLaka Branch
NO 8, Jalan Seri Paya Rumput 2,
Taman seri Paya Rumput,
Melaka
(Berhampiran TESCO Cheng)
Waze: Karysma Store Melaka
0197374503
More Info About Home Sewing Machine:
http://jahit.my/blog/mesin-jahit-portable/
More Info About Industrial sewing Machine
http://jahit.my/industrial-sewing-machine/
Feel free to follow our Facebook Page to know more abaout Jack Industrial Sewing Machine